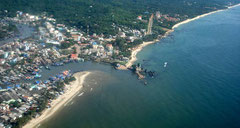 Located in the Thailand Gulf, Phu Quoc (Kien Giang Province) is the largest island district in Viet Nam. The capital of the island district is Duong Dong Town, about 120km from Rach Gia City and 45km from Ha Tien Town.
       Phu Quoc Island District includes 36 islands of different sizes, of which Phu Quoc Island is the largest one with the area of 573km2. The island has tropical monsoon climate characterized by 2 distinct seasons, rainy season (June to November) and dry season (December to May). The annual average rainfall is 2,879mm.
     Phu Quoc is also called "Emerald Island" due to its natural treasures and tourism potentials. The island has many beautiful beaches as Truong Beach, Khem Beach, and Sao Beach... Especially, Phu Quoc National Park with the area of 31,422ha has a diversified ecosystem of 929 species of flora, 89 species of hard coral, 19 species of soft coral, 62 species of seaweed...
      Phu Quoc has harbors of An Thoi and Hon Thom where ships anchor and exchange goods. Phu Quoc Island is also home to many historical sites such as national hero Nguyen Trung Truc's military base, Phu Quoc Prison...
      The island is well known for its high-quality fish sauce. Phu Quoc fish sauce's smell is particularly good since it is made from anchovy (ca com), with a high level of protein. Besides, Phu Quoc sea also has many precious types of seafood as prawns, mackerels, pomfrets, blue fishes...
     The transportation system in the island is growing rapidly. The transport routes between mainland and the island by air and sea are very convenient for tourists. Especially, Phu Quoc International Airport has put into operation since 2 December 2012 to facilitate the arrival of international tourists attracted by the island's beauty.
Source: vietnamtourism.com