THE SOCIALIST REPUBLIC OF VIET NAM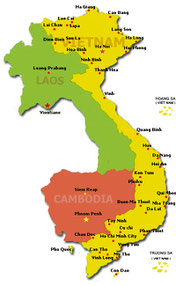 Viet Nam has become one of the most popular tourism destinations in the world. Whether it is scenic beaches, remote mountain resorts, small university towns, historic sites, cultural centers or centers for the arts, Viet Nam has much to offer within driving distance of our base or in more distant locales by short domestic flights. Choose from the many options and design your own customized tour. 
Mainland Territory: 330,951.1 sq. km
Population: 88,772.9 thousand inhabitants (Apr. 2012)
National Capital: Ha Noi
     Lying on the eastern part of the Indochinese peninsula, Viet Nam is a strip of land shaped like the letter "S". China borders it to the north, Laos and Cambodia to the west, the East Sea to the east and the Pacific Ocean to the east and south.
     The country's total length from north to south is 1,650km. Its width, stretching from east to west, is 600km at the widest point in the north, 400km in the south, and 50km at the narrowest part, in the centre, in Quang Binh Province. The coastline is 3,260km long and the inland border is 4,510km.
Latitude: 102º 08' - 109º 28'  east
Longitude:  8º 02' - 23º 23'  north
     Viet Nam is also a transport junction from the Indian Ocean to the Pacific Ocean.
Source: vietnamtourism.com