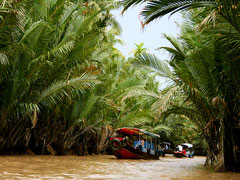 Ben Tre is situated in Mekong Delta. It shares its border with Tien Giang in the north, Vinh Long in the west and south - west, and Tra Vinh in the south. It has 60km seashore. The four main rivers are Tien Giang, Ba Lai, Ham Luong, and Co Chien. They create Bao, Minh, and An Hoa islets.The topography is flat with sand dunes and fields. Though rivers surrounding the province, water transportation are very available.
     Climate: It is moon soon climate. The rainy season lasts from May to October. The dry season lasts from December to April next year. The annual average temperature varies between 26 and 27oC. The annual average rainfall is 1,250mm - 1,500mm.


     Having complex network of rivers and canals, Ben Tre has advantage to develop ecotourism with many green fruit gardens. Ben Tre is the granary of Mekong Delta. There are agriculture productions such as rice, corn, pineapple, custard-apple, star apple, durian, mango, longan, and many more. Industrial trees are tobacco, sugar-cane, and cotton. Especially, Ben Tre is homeland of coconut. 
     Ben Tre is 14km from My Tho, and 85km from Ho Chi Minh City. National Highway No. 60 and 57 link to Tra Vinh and Tien Giang provinces in turn.Ben Tre is considered as island province accessible by ferry from My Tho. Tourist can visit Ben Tre by high-speech ship for 5 people.
Source: vietnamtourism.com