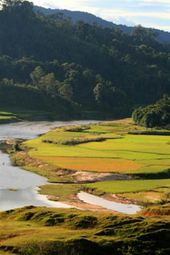 The Central Highlands is an important strategic region on national security and defense. Located in the Trans-Asia Axis, bordered with Southern Laos, North-Eastern Cambodia to the west and connected on the provinces which have major ports to the east, the region has many potentials and advantages to attract investment for social-economic development.

     With two distinct seasons of rain and dry and diversified natural resources, the Central Highlands owns favorable conditions to develop many tourism types such as ecotourism, adventure tourism…This is the land of waterfalls, mystical mountains and endless coffee and rubber. The green tourism values of the region concentrate mainly in national parks of Yok Don, Chu Yang Sin (Dak Lak); Chu Mom Ray (Kon Tum); Kon Ka Kinh (Gia Lai); Bidoup - Nui Ba (Lam Dong) and natural reserve of Ngoc Linh (Kon Tum). Many sub-regions in the Central Highlands have temperate climate, suitable for leisure tourism, typically Da Lat (Lam Dong). This place is considered as "Little Paris" with dreamlike landscapes, fog and pine forests. To Da Lat, visitors also have the opportunity to learn about woodblocks of Nguyen Dynasty (now preserved in National Archive Center 4) – World Documentary Heritage belongs Memory of the World Programme of UNESCO.

     The Central Highlands is home to 45 ethnic groups with diversified cultural identity, valuable art-historical relics and unique customs. This region also preserves many epics, ethnic musical instruments and folk festivals. The life of ethnic people, unique culture features and village scenery in the Central Highlands always impress visitors. In particular, the space of gong culture in the Central Highlands recognized by UNESCO as an Oral-transmitted Masterpiece and Intangible Cultural Heritage of the Humanity is also a highlight to attract visitors to the region.