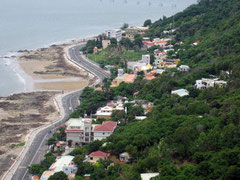 Ba Ria-Vung Tau Province is located in the Southern Viet Nam, to the northeast of the Mekong Delta. It shares its border with Dong Nai Province to the north and Binh Thuan Province to the east, Ho Chi Minh City to the west and East Sea to the south - east.
     Ba Ria- Vung Tau Province is a large tourist center. It has over 100km seashore with beautiful swimming beaches, as well as many lakes and thermal springs. The offshore bench has two kinds of importance resources: petrol and seafood.

     In Vung Tau City there are Thuy Van, Chi Linh, Back, Front, and Dau beaches; Long Dien District has Long HaiBeach; Xuyen Moc District has Ho Tram, Ho Coc beaches. In Con Dao Island, tourists are able to swim in Dam Trau, Hon Cau, and Hon Tre beaches... then they can climb in Thanh Gia Mountain, Nho Mountain. If tourists would like to improve their health, they could go to Binh Chau Hot Spring, which its temperature comes up to 800C, then visit Binh Chau- Phuoc Buu Natural Preservation Zone.
  Located in the 90km southern part of Vung Tau, Con Dao Island has a dense forest, which is Con Dao National Park with rich flora and fauna. The sea in this area is home to various valuable marine species. Especially, tourists have a chance of watching the turtle laying the eggs. It also used to host a convict prison during French colonial era, and later, during the American War.
     Vung Tau is 129km from Ho Chi Minh City, 95km from Bien Hoa (Dong Nai), 513km from Nha Trang (Khanh Hoa)

Road: Ba Ria- Vung Tau has National Highway 56 to Dong Nai Province, National Highway 55 to Binh ThuanProvince, and National Highway 51 to Ho Chi Minh City. Express buses leave for Bien Hoa, Ho Chi Minh City, My Tho and some others.

     Air: There are flights from Vung Tau to the Con Dao Islands. 
 
     Boat: Vina Express operates hydrofoils from central Ho Chi Minh City to Vung Tau.
Source: vietnamtourism.com