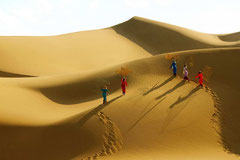 South Central Coast is located in favorable geographical position. It's near Ho Chi Minh City and South East key economic triangle and also the gateway to the Central Highlands. All provinces in the region back on Truong Son range and face East Sea.
     The region has a complex topography of hill, mountain, forest and sea which creates majestic landscapes and beautiful beaches. This is favorable condition to develop tourism, especially sea – island tourism.
     Da Nang Beach was voted as one of six most attractive beaches on the planet by the Forbes Magazine (USA). Khanh Hoa owns a lot of charming bays, beaches such as Cam Ranh Bay, Van Phong Bay, Dai Lanh Beach, Tam Islet… Phu Yen with 190km coastline and connection of mountains and sea in many places creat nice bays and lagoons such as Vung Ro Bay, Xuan Dai Bay, Cu Mong Lagoon, O Loan Lagoon, Da Dia Rapids… Moreover, the region also owns many other beautiful sea areas including Cham Islands (Quang Nam), Sa Huynh (Quang Ngai), Quy Nhon (Binh Dinh), Ninh Chu - Ca Na (Ninh Thuan), Mui Ne (Binh Thuan). Besides, Spratly and Paracel archipelagos are also located in the South Central Coast. These are basis to develop tourism types of leisure, sports on sea, eco-sea and diving in the future.
     To the South Central Coast, tourists not only rest in luxury resorts, discover the charm of sea - island but also have opportunity to explore unique cultural – historical relics such as Champa towers, Tra Ban Ancient Citadel, Truong Luy Citadel... In particular, the archaeological sites in Sa Huynh proved that from the Iron Age, the region had the developed civilization and first inhabitants are ancestor of Cham people.
     In addition, the South Central Coast also owns two world cultural heritage sites recognized by UNESCO including Hoi An Ancient Town and My Son Sanctuary.