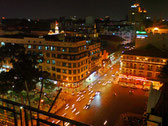 So called the Pearl of Far orient in 19th century, Saigon was already a busy commercial center. Merchants from China, Japan and many European countries would sail upstream the Saigon River. After the reunification of the country, on 2nd of July, 1976, it has officially changed Saigon into Ho Chi Minh City in honor of the nationalist leader.
     This is a city on the go 24 hours a day, where everybody seems to be busy either buying, selling, studying, working or just enjoying themselves. Despite the fact that modern high-rise buildings have begun to dominate the skyline in recent years there are still many fine examples of French colonial architecture in Ho Chi Minh City such as the Notre Dame Cathedral, the Old Saigon Post Office and the former Hotel de Ville. A stroll down Dong Khoi Street, the Rue Catinat of Graham Greene's 'The Quiet American', will reveal more colonial classics like the Continental, Grand and Majestic hotels as well as dozens of tempting boutiques and galleries. Ho Chi Minh City nevertheless possesses various beautiful buildings; 
     Ho Chi Minh City's nightlife has become very cosmopolitan in recent years and there are literally hundreds of bars, pubs, night clubs and discotheques to pick from for a night on the town. Further afield, popular day trips from Ho Chi Minh City include the incredible Cu Chi Tunnels built by Vietnamese resistance fighters during the long years of struggle for independence.