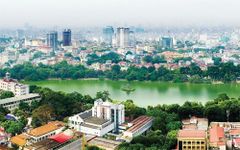 HA NOI CITY
   Ha Noi is located in the Red River Delta, in the center of North Viet Nam. It is encompassed by Thai Nguyen and Vinh Phuc provines to the north, Ha Nam and Hoa Binh provinces to the south, Bac Giang, Bac Ninh and Hung Yen provinces to the east, Hoa Binh and Phu Tho provinces to the west.
     Ha Noi means "the hinterland between the rivers" (Ha: river, Noi: interior). Ha Noi's territory is washed by the Red River (the portion of the Red River embracing Ha Noi is approximately 40km long) and its tributaries, but there are some other rivers flowing through the capital, including Duong, Cau, Ca Lo, Day, Nhue, Tich, To Lich and Kim Nguu.
     Throughout the thousand years of its eventful history, marked by destruction, wars and natural calamities, Ha Noi still preserves many ancient architectural works. Famous sites include the Temple of Literature (built in 1070), Ha Noi Citadel, Ha Noi Opera House, Ha Noi Church...
     Ha Noi also characteristically contains 18 beautiful lakes such as Hoan Kiem Lake, West Lake, and Truc Bach Lake..., which are the lungs of the city, with their surrounding gardens and trees providing a vital source of energy.

    Many traditional handicrafts are also practiced in Ha Noi including bronze molding, silver carving, lacquer, and embroidery. Ha Noi has many famous traditional professional handicraft villages such as Bat Trang pottery village, Ngu Xa bronze casting village, Yen Thai glossy silk...